Sidney's brilliant first show in the UK with D'Stassi Art
On the 6th August we officially opened our flagship gallery in Shoreditch, launching with Sidney Teodoruk's debut UK show 'Pop Nightmare'. The new space is located in Shoreditch, an area of East London known for its music scene and legacy of public art. Prior to the launch, the gallery site previously housed the legendary "Boiler Room Events," hosting artists like Joey Bada$$, Skepta, Kaytranada, and Steflon Don. Today, the renovated rooms retain the vivacity of the former club, transitioning comfortably between white walled gallery, nightclub, and immersive event space which can host 200+ guests. 
Kim Turnbull at D'Stassi Art
We retained remnants of the space's original identity while adding contemporary design elements, including a street level atrium that floods the main room with natural light and an old lift shaft converted into a print room. The sprawling basement includes galleries, a multipurpose bar and event space that will be used as a lounge for forthcoming programming,  and  even  a  canvas  storage  area  available for  collector  use. 
'Pop Nightmare' ran until the 20th August, and was a celebration of Sidney's joyously complex, colourful and dichotomous work. It marked Teodoruk's debut UK solo exhibition, and featured a new series of paintings that mix figuration and abstraction in brightly-colored works that reference circus sideshow art depicted in a pop aesthetic. Spread across two floors, Sidney's work draws heavily on childhood nostalgia and the transmission of cultural memory, revolving around poetic contradictions, liminal paradoxes that exist somewhere between reality and fantasy. For Pop Nightmare, Teodoruk captured a mix of cultural references, past and present, combining fragments of text, recycled poster imagery, and expressionistic mark-making in works that turn inner darkness into light  through  a  joyous  exploration  of  color  and  imagery.
Guests at ' Sidney Teodoruk's Pop Nightmare' - D'Stassi Art
As Marissa Bailey notes on Teodoruk's website, "Using every visual device at his disposal, he weaves strange narratives drenched in dichotomous imagery and text, then obscures large areas in swathes of block-colour, inviting the viewer to fill in the blanks. For Teodoruk, opposing forces are clearly a point of confusion, contention and humour. Heavy, dense concepts such as religion or the prison system are contrasted with subjects of either physical or metaphorical lightness - a beach ball, a bird, the sky..."
These opposing forces create dynamism on the canvas, they are the guiding lights that pull the viewer into the dense world that Teodoruk creates. This painted energy was met by a similar sense of excitement by those that attended the opening. Artists, gallerists, musicians, creatives and like minded art lovers were pulled in from all over London - helping us to put our stamp on the capital's art scene.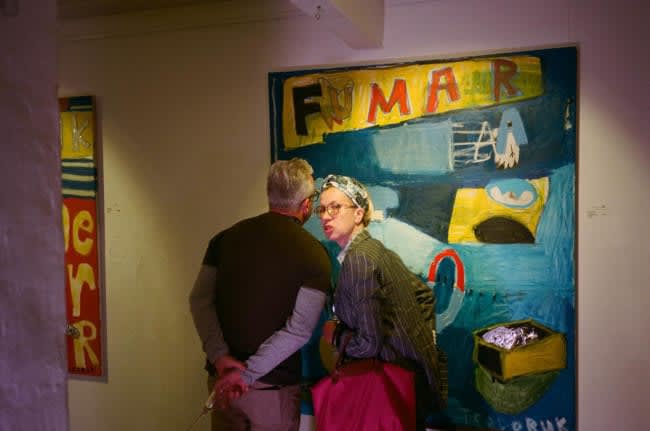 'Fumar' by Sidney Teodoruk
Since we founded D'Stassi Art the mission was always clear, to continue in the vein of radical inclusivity that traces its roots back in the 1980s graffiti and street art movements. As we wrote at the outset, "In the traditionally exclusive art world, D'Stassi Art looks to discover, encourage and help introduce clients to works of art based purely on how passionate we are about them." 'Pop Nightmare' was the perfect encapsulation of this ethos, distilled for a fortnight in a physical gallery space that eschewed all formal expectations. 
The D'Stassi Art team.